We live in a great rural setting in northwest Iowa, and we think of ourselves as being somewhat isolated in our rural community; however many of our students live, work, and hang out in Sioux City. We were recently notified that there is an increase in human trafficking situations in the Sioux City metro, and these predators are recruiting at a very young age. For this reason, we have contacted the Set Me Free Project based in Omaha, NE. They will be making 3 presentations on Tuesday, February 19, 2019. During the school day, they will speak to the junior high and high school separately, and then in the evening, they will host a 6:00 PM meeting for parents in the choir room.
The Set Me Free Project is a nonprofit organization focused on fighting sex trafficking through prevention education for youth and families. I am including their link if you would like information - https://www.setmefreeproject.net/about. The organization is tailored to making age appropriate presentations and focus on defining human trafficking and helping students identify why and how they could be at risk. Set Me Free provides a foundation for all students to recognize the intrinsic value in every human being.
I hope you will be able to attend the evening parent presentation. If you have any concerns about your child listening to the program, please contact me at 712-947-4328 or Julie.clausen@hintonschool.com. I hope we can spread the message to our children, so they can be more aware of their surroundings and if our students "see something, say something."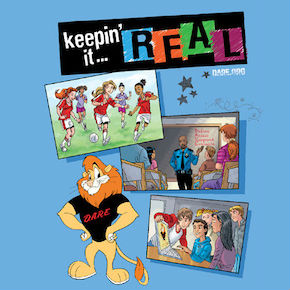 The 5th graders are beginning their DARE classes with Deputy Leusink of the Plymouth County Sheriff's Department. Officer Leusink will be coming on Tuesdays to talk to the students. He will cover many topics. The students will learn about peer pressure, making safe and responsible choices, communicating effectively, and dealing with stress.
The program will last approximately 9 weeks. It will culminate with a graduation ceremony on May 14th at 9:00 in the high school library.
On Friday, January 11th, the Hinton Hope Relay for Life team hosted their 9th annual Coaches vs Cancer Event during the varsity basketball games versus the Westerners from Akron-Westfield. This year's color theme was emerald green to show awareness of liver cancer. The goal of the night was to raise money for Relay for Life to help cancer research and to honor and remember those affected by cancer.
The Hinton Hope team, which consists of Hinton School staff members, hosted a bake sale during the game, sponsored halftime shooting contests, and sold t-shirts which raised $1100!
The Hinton Hope team members would like to send out a big thank you to our basketball teams, coaches, and our community for helping us continue to raise money to help battle cancer.
As second semester wraps up and a new semester begins, many changes take place in the English department. World Literature is a brand new class this semester that explores voices from all over the world. Students analyze the writing style and content from different parts of the world. Through this course it is hoped that students will gain an understanding of cultures that differ from our own and also realize there are certain universal truths that unite us all.
The first novel the class began reading was The Kite Runner about a boy and his best friend growing up in Afghanistan. As part of the unit the students took a google trip. They were able to explore areas mentioned in the book via google earth. Students were not only able to see these areas, as the expedition also incorporated additional information about each area and posed thought provoking questions about the area and its role in The Kite Runner. Google trips allowed students to visit areas they otherwise wouldn't have been able to, and the additional information and questions added depth to our class discussion that wasn't present before.
JANUARY PBIS STUDENTS OF THE MONTH
Preschool-3: Declyn Gemberling, Gavin Becker, Emerson Wurth, Bryson Hohbach, Alyssa Grasmeyer, Diesel Riediger, Benny Meylor, Brenna Wager,
Josephine Hunter, Shawn Fitch, Macie Charlson, Grayson Groves, Luke Leary, Kylie Koopmans, Raelyn Kempema, Connor Burns
4-6: Madyson Hoppe, Aubrey Watts, Alexys Kallsen, Zoey Ibanez, Kaelyn Burns, Olivia Petersen, Bailee Rose, Kenzie Winters
MOTIVATING RELUCTANT READERS
As a reading teacher, the most common issue I talk about with parents is how to motivate reluctant readers. Over the years, I have gathered a list of tips that work for all students and age groups. Using these tips outside of school will help transform your reader from reluctant to invested.
1. Book Choice - Give your child choice over what they read. Let them explore different kinds of texts. Expose them to magazines, newspapers, and graphic novels in addition to regular stories and books. When a child feels like they have a choice, they are more invested in their reading life.
2. Discussion - When your child is reading at home, talk about their text with them. Ask them about the main character, decisions made in the story, and what they would change about the story. Ask them for facts and their opinions. Also, I would encourage the parent to read the same book as your child. This gives you a "book club" feel to your discussions.