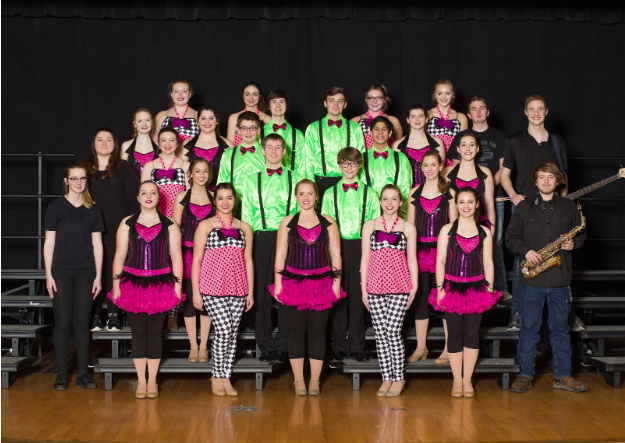 The Hinton Soundwaves began their performance season with a workshop hosted by Randy Ewing at LeMars Community School on January 26. The Soundwaves attended nearly 4 hours of critique sessions focusing on vocals, choreography, and overall show. The day concluded with performances by the Hinton Soundwaves, Sioux Center Satisfaction, and LeMars Crimson & Black. The group traveled to Spirit Lake on February 15-16 for the Spirit Lake Shake the Lakes Invitational. The group placed 3rd in class 2A. This past weekend, the group traveled to Sioux City Bishop Heelan where they placed 2nd in class 2A. Upcoming performances for the group include Council Bluffs Lewis Central Clash of the Titans on March 2, Westwood Jubilation on March 9, University of South Dakota Coyote Jazz Festival on March 12, Hinton Soundpower Concert on March 14 (7:00PM) and the 13th Annual Hinton Soundsational on March 16.
ENERGY CHALLENGE- 4TH GRADE
4th Grade - Mr. Conry, Mrs. Kuchel, and Mrs. Leary
Just last week our Plymouth County Naturalist, Victoria DeVos, visited the fourth grade classroom to supplement their Science unit on Energy. Prior to her visit, students had been busy building complete circuits, working with magnetic charges, and even reflecting light. Students were introduced to sustainable sources of energy. They also learned about renewable and natural resources. After Victoria's lesson, students were given a design challenge: build a functioning wind turbine that also was aesthetically pleasing. Students were given a variety of recyclable materials to build their turbines.
Although, not everyone was able to meet the design challenge - students learned valuable lessons in problem solving, team building, energy, and engineering!! A special thank you to Victoria DeVos for delivering this great program to our students.
FEBRUARY PBIS STUDENTS OF THE MONTH
Preschool-3: Addison Crawford, Lincoln Olson, Clara Vickery, Brenleigh Anderson, Kyler Bearce, Brinley Hebert, Camden Tomlinson, Tony Nyreen, Keaton Burns, Aria Freeman, Charlee Kounkel, Ellie Friessen, Karalyn Petersen, Leyla Meylor, Teyla Cotter, Kali Kovarna
4-6: Carly Tanner, Evan Greigg, Brylee Gillaspie, Adelynn Utech, Karlyn Kovarna, Louis Holdgrafer, Brett Leitru, Cooper Nelson, Carter Christiansen, Ruby Harper, Jayme Ragar, Jolene Ragar
In Geometry, the students have started working with Quadrilaterals. We have discussed parallelograms, rectangles, rhombi, squares, and are now starting trapezoids and kites. Previous to this, we have spent a lot of time on triangles, so this is a little change of pace for them. Quadrilaterals are more real world for them, we see them in our everyday lives.
We have discussed how contractors use rectangles and squares in their buildings, and how they themselves can use these things when they own a home in the future. In order for a house or building to be built properly, the builders have to understand rectangles and squares. If they do not, the the house won't be "square" and will lead to problems in the future.
When we finish this part of the curriculum, we will move into finding areas of all these shapes, which is also useful for the students to know. We have touched on this concept a little bit in the past, but we will dig deeper into it in the near future. We will also use these skills on a new project where the students have to create a budget and design a lunchroom that functions efficiently and holds the correct amount of people for the cheapest price. This is a project/contest that the students seem to enjoy. It shows the real life applications of what they are learning in class.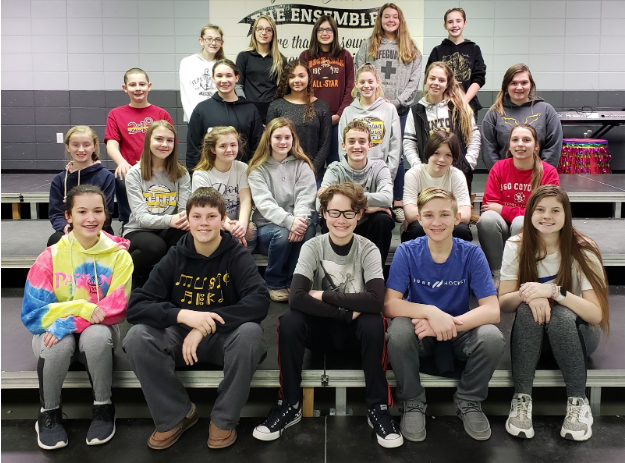 Sound Explosions, the middle school show choir, has been working hard on preparing their show for the 2019 season. The group consists of 23 students in 7th and 8th grade. This year they are singing Walking on Sunshine, How Does a Moment Last Forever and Best Day of My Life. Their performance season began on Friday, Feb 22 at Sioux City Heelan. The Sound Explosions will perform on Friday, March 1 at Sioux City East Sing All About It and Westwood Jubilation on March 9, Hinton Soundpower Concert on March 14 and the 13th Annual Hinton Soundsational on March 16.
HINTON SOUNDSATIONAL 2019
The 13th Annual Hinton Soundsational Show Choir Invitational is coming up on Saturday, March 16. This is the biggest fundraiser for the year for our show choirs and it gives our students a chance to host nearly 1000 students from 18 show choirs. The day is a lot of fun for all that attend. The Soundsational requires approximately 150 volunteers to ensure that it runs smoothly. If you are interested in volunteering throughout the day, please contact Mr Rusche at dustin.rusche@hintonschool.com
Junior and Senior students who have IEPs will be given an opportunity in April to attend a Career Exploration Day. This will take place at the Moville Community Center on April 11th from 9:00-11:00.
Student will be given the opportunity to do hands on activities as well as see demonstrations from area employers. They will also have the opportunity to do interviews in areas that they may be interested in. This will give them an opportunity to connect with area employers and help develop our future workforce. There will be 20+ employers on hand for the students to visit throughout the day.
This event is being put on through a combination of providers including Iowa Works, Iowa Vocational Rehabilitation Services, Countryman Financial, and Western Iowa Tech Community College.
We look forward to taking an eager group of future employers to this event to develop connections and give them a better understanding of what lies ahead!!