Western Iowa Tech Classes Start Soon!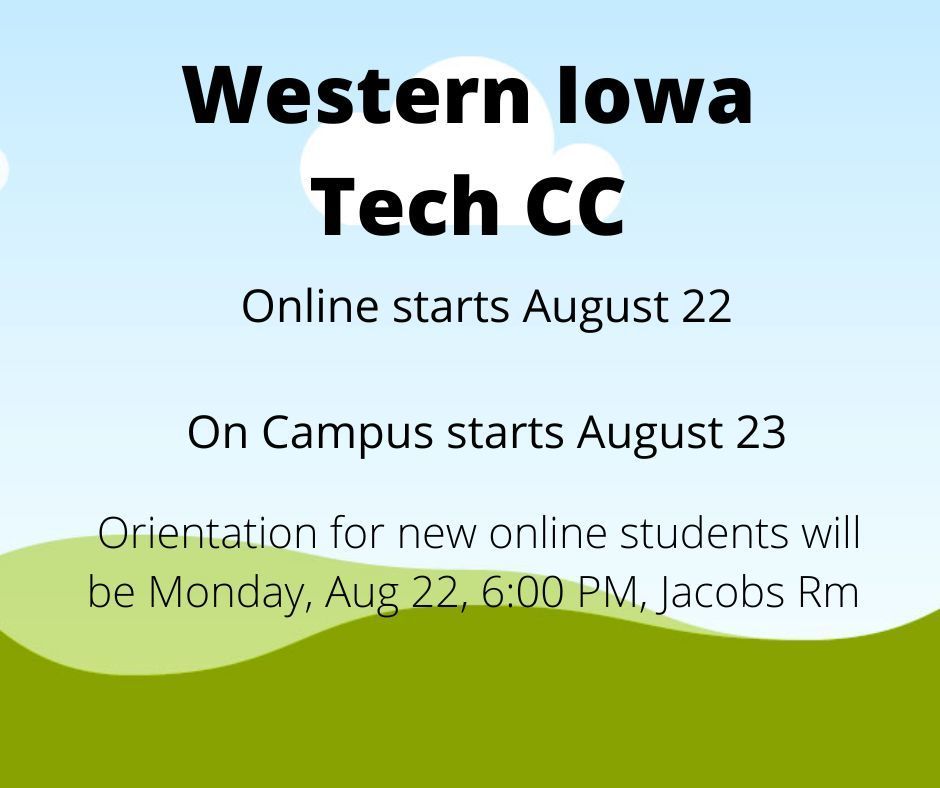 The school board accepted a $6K donation from the late Lee Jarvis, which was presented by his sons, Steve and Dave. The money will go towards planting trees along the third base side of the softball field. Mr. Jarvis took great pride in Hinton. We thank you! #legacy
Lunchtime Solutions came in before the board meeting to give the board a student perspective of one of their family style meals. A tasty lasagna meal with garlic bread, roasted broccoli, and a fresh side salad. 😋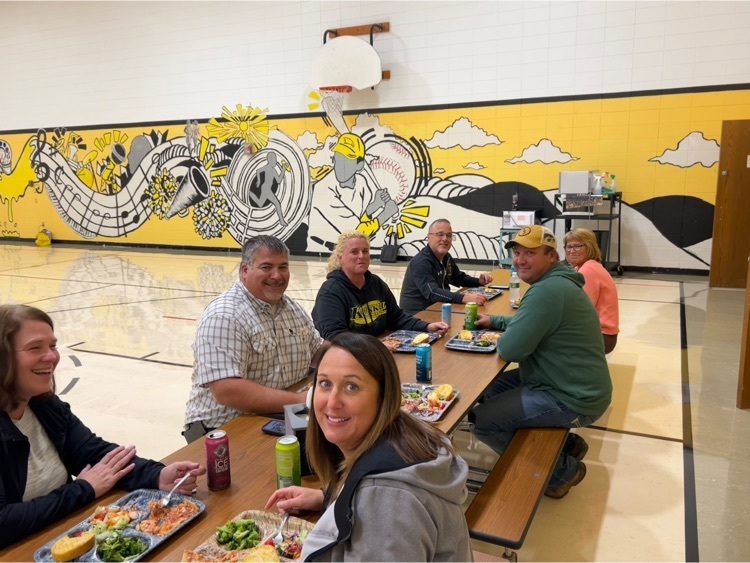 We are proud to announce that at the end of July, recent graduate Brody Spies was recognized as Honorable Mention for the Youth Iowa Character Award at Prairie Meadows Events Center in Altoona based on his excellence in displaying the 6 pillars of character: trustworthiness, respect, responsibility, fairness, caring, and good citizenship. Only one youth receives the Character Award and only two youth receive the Honorable Mention Character Award per year in the whole state of Iowa. Brody has earned this prestigious award because of his personality, volunteering, leadership and effort he has exhibited in our school and community. His parents are John and Tonya Spies.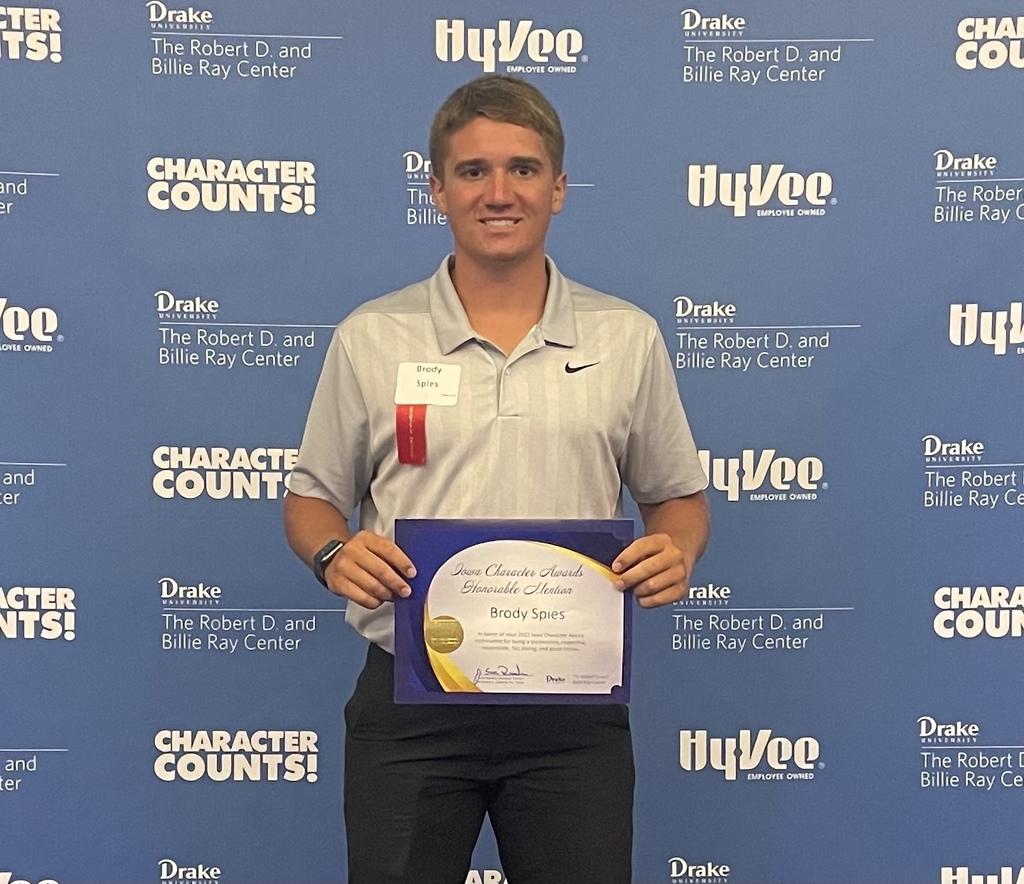 Fall media night will be August 18 at 6PM at the football field.
Please see the following picture for information regarding a benefit for Steph TenNapel Becker in Brunsville next Friday, August 19, 2022.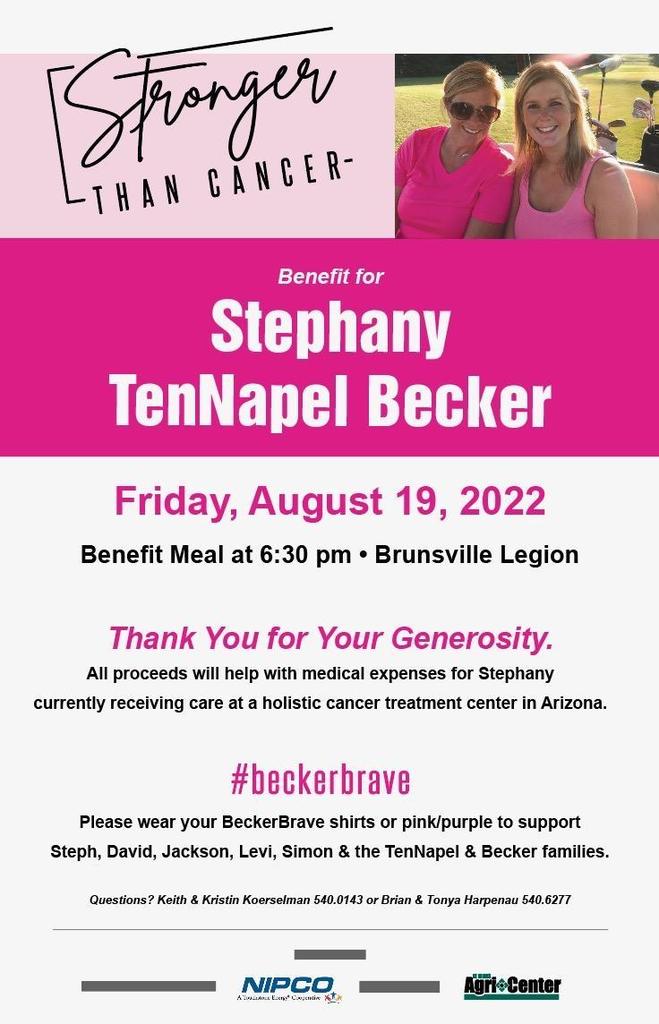 Birdie Fest info: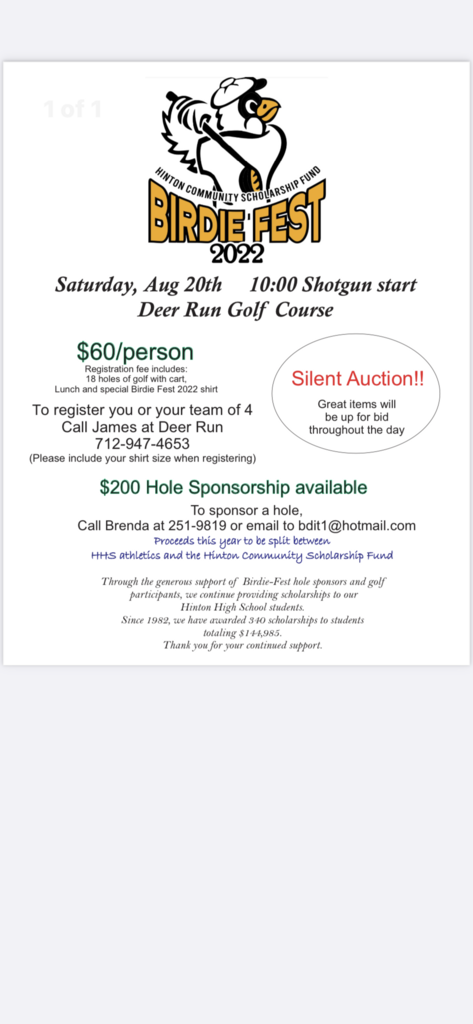 HS Cross Country will start there season Aug. 15th at 8AM. Coach Hoffman will be sending out information this week.
The 9-12 volleyball season begins Monday Aug. 8 at 8AM in the HS gym. You must have a completed physical taken and concussion form ready to be turned in to practice.
SPORTS PHYSICALS GRADES 7-12 Thank-you for your response to our sports physical clinic to be held on Thursday 7/14 from 1-4 pm. Physicals and concussion forms are attached below for your convenience. Please review concussion form with your student and both sign on bottom. Complete front or first page of physical form (name and health history) Dr. Marino will complete physical portion. Please make sure to sign the bottom of 2nd page or back of form indicating parent permission to participate. Cost of physical is $30.00 which will be donated to Blackhawk Athletic Department. Checks should be made out to Hinton Community School.
https://drive.google.com/file/d/1skuEv5ADS_Xz-rHM8hOQfmQzYZ3TADJz/view
https://ihsaa-static.s3.amazonaws.com/Sports_Medicine_Wellness/Concussions/HEADS_UP_CONCUSSION_FACT_SHEET_053012.pdf
NOTE: TIME FOR STUDENT TO ARRIVE If last name starts with A thru F 1pm G-R 2 pm S-W 3 pm Thanks! GO BLACKHAWKS!
SUBSTATE BASEBALL: Dugout location/Home or Visitor will be determined on a coin flip tonight in Sioux Center. It has to do with seeding process. Once that is determined notifications will be sent out as to which side to sit on. Thank you.
Baseball fans for July 12 at Sioux Center. First pitch 7PM. Streaming TBD. Please purchase tickets ahead of time here:
https://www.iahsaa.org/tickets/
We are Class 2A. Blackhawks will be in the 1st base dugout. Fans can park in the lot to the West of the ball field or also in the lot to the South of the football field which by the swimming pool.
ATTENTION ALL STUDENT/ATHLETES: All students in grades 7-12 that want to play sports we will be having a sports physical clinic on Thursday, 7/14/22 from 1-4 pm at the High School. The cost of physicals will be $30.00. Physicals will be done by Dr. Marino who will donate the entire fee to our Athletic Department. Feel free to schedule your physical with your primary care physician if you prefer. All physicals and concussion forms need to be completed and turned in to the nurse by August 8th for any student participating in any school sport. This also includes cheerleading. Please email Nurse Sue at
Sue.popken@hintonschool.com
if you would like to have your student included.
Tickets for post season Baseball need to be purchased here. Hinton is Class 2A. Also please remember to keep pets at home per the IHSAA.
https://www.iahsaa.org/tickets/